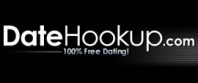 DateHookup.com is 100% free online dating site but it seems that you might get disappointed as you access this website. Their web platform seems nothing new and just usual, the same as their online dating features. Just like any other online dating site platforms, there are no such brand new things to offer which can be the eye-catcher for those web visitors. In addition to my observation to this website, their layouts are not given much effort or any kind of twist to spice up your browsing experience. You will feel like you are in the 90's as you browse this site using the dial up connection. Its layout and design seems like very ordinary or maybe a default web template for me. This website seems like a beta version with no further changes in their layout. But at least this website can easily load in my browser (lol). Your expectations can turn into embarrassment – so if I were you, do not waste your efforts in signing up in this website.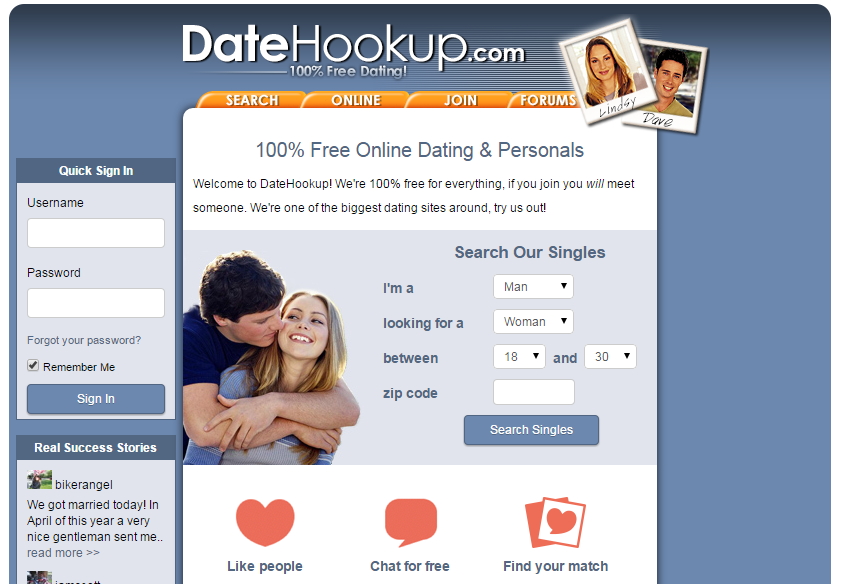 At first, I made a decision to go over with this website and I am so glad that this website is 100% free as they have just said in their landing page: "We're 100% free for everything, if you join you will meet someone." This tagline is giving guarantee to all the members that this is totally free to sign up but the thing is… is it possible to meet someone in this dating site for FREE? Yes, indeed they can mingle through online portal but it isn't quite possible to hook up with these people. Damn! Is this another site for those bots? What I am telling to this website is that am I going to secure or assure myself in dealing with this bunch of profiles. Are we allowed to chat with other members for free or just their gimmick? This is quite confusing. I'll be the one to enlighten your minds why this website is not considered as a legit online dating site.
The first thing that adds to my disappointment with this website is the NO SPAM Policy. Fake profiles are deleted and banned in this website but as you can see the Terms and Conditions states that: "DATEHOOKUP.COM IS NOT RESPONSIBLE FOR ANY INCORRECT OR INACCURATE CONTENT POSTED ON THE WEBSITE OR IN CONNECTION WITH THE SERVICE, WHETHER CAUSED BY USERS OF THE WEBSITE, MEMBERS OR BY ANY OF THE EQUIPMENT OR PROGRAMMING ASSOCIATED WITH OR UTILIZED IN THE SERVICE" – this contradicts their policy. That sucks, imagine another "Epic Fail" online dating site that wasted our time and effort in visiting this site. So I cannot consider this site a legitimate one and this can also be included to my useless list of dating sites. Why am I saying this to you? Because their terms and conditions says it all. This website is bluffing as you would not know if someone is uploading their very own authentic headshots or profile picture or they are just downloading some pictures of a celebrity or a porn star by means of several search engine – nothing is impossible with these people who are creating spambots in this website.
DateHookup.com is totally a waste of time but thankfully, it does not involve money. But what I am thinking about this website is that you cannot compare this to another online dating sites because they are in the same feather that flock together. Indeed, this is another installment of "Epic Fail" websites. It's up to you to use this website in finding your future partner, but I am telling you this, you will end up with nothing to find.
Yes! They have a clickable option for "Premium Matches" or "Free Matches" but as you go over with that link, you will be redirected to Match.com for premium and Zoosk.com for free – that's so stupid. This is considered as indirect marketing, and why can't they offer this kind of features alone? What a heck! I also browsed some of the reviews of this website and I found out something "fishy." A premium member of this website said that he was charged on his credit card which is not expected by this member. In that case, this website is just making money and not making love for others. The fact that you have the privilege to message other members in this website but you will be spending so much money – this is the reason why DateHookup.com is not free and considered as a scam. What I am saying is that they used DateHookup.com as an accomplice and knowing that this website is 100% free, but the other redirected websites seems to be free or a free trial or just a hoax. So please be careful from what you are clicking, so leave that page just like what I did.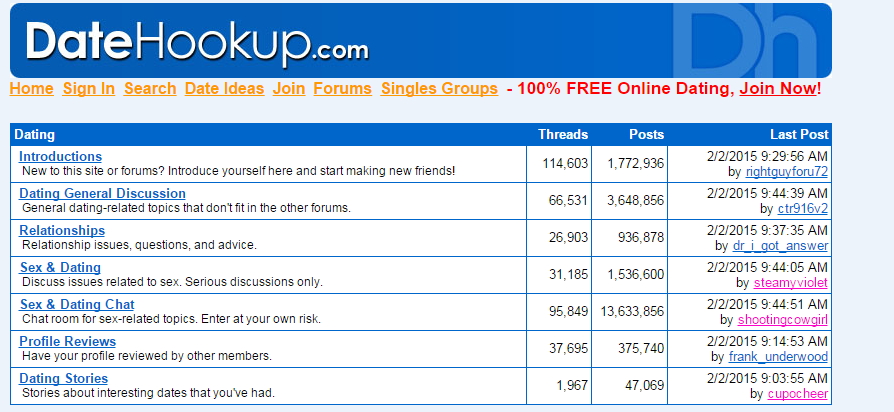 If you are going to visit some of the chat rooms in this website, you will end up chatting with no one. There are some members there that wanted something for fun but if I were you do not play with them because it may trap you for something. And I don't know if this website is also concern with those obscene words that are most of the times I saw in many of the chat rooms. Spambots are lurking in every chat rooms there and they are up for our money, our plastic cards.
Another weird thing that caught my attention was their blog, wherein they posted some love stories that ended up an "ever after" but the thing is: "Are those stories for real or it has something to do with their advertisements?" This propaganda or advertisement creates a motivation to all people out there to seek out for their future partner but in reality this is only a dream… a nightmare that won't happen to me and to all of you guys. You will never regret if you are going to clean your cookies and cache of your browser and do not go over or browse this website again…
Want To Try Online Dating

Try AdultHookUps.com instead